Our Door Guard Lock™ is designed to be deployed from inside the room to prevent unwanted guests from entering — even if they have a key.
Recommended for travelers, apartment renters, homeowners, dorm students, Air BnB, families with small children, rooms without locks, and single-family units! Sleep better when you use our Door Guard Lock™. BUY ONE TODAY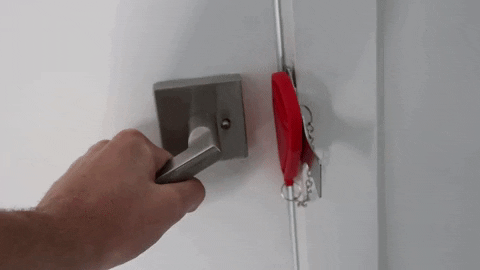 SAFETY AND PRIVACY.  Prevents unauthorized access to your home, helps limit disturbances, and provides maximum security to every door to keep you safe from potential intruders. Prevent toddlers and small children from leaving the house unsupervised
PORTABLE AND MULTIFUNCTIONAL. Whether you are at home by yourself, on vacation, or in a hotel, this can fit on most standard doors that open inward. Its compact size makes for the perfect companion on every travel. 
EASY TO USE AND INSTALL. Our Door Guard Lock™can be placed in seconds with no need for tools or screws required, and with no damage to the door frame! 
QUALITY MANUFACTURING. Our Door Guard Lock™ is made of superior-quality Stainless Steel. It is designed with 2 holes on the lock that are convenient for you to lock on doors of different thicknesses,
Directions:

Insert the claws into the door strike plate.

Afterward, close the door.

Next, insert the metal rod to the hole until it is firm.

When you are ready to leave just free the metal rod from the hole, open the door and get your Door Guard Lock™ until you need it again. 
Specifications:

MATERIAL:

 
Staninless Steel
PRODUCT SIZE:
10.92x3.2x1.02 cm / 4.3 x 1.26 x 0.4 in
HOLE SIZE: 1.98 cm/0.78 in (small), 3.05 cm/1.2 in (large)
COLOURS:
 Black/Red
QUANTITY:
 1x Door Guard Lock™
Please allow 1-3cm measuring deviation due to manual measurement.

Due to the different monitor and light effects, the actual color of the item may be slightly different from the color shown in the pictures. Thank you!